Curriculum Vitae - Summary
You are at: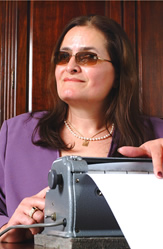 Bernidaki - Aldous Eleftheria
Mail address:
American College of Greece, 6 Gravias Street, Ag. Paraskevi 15342, Athens, Greece
Tel.:
+30 210 6009800 ext. 1384
e-mail:
ebernidaki@acg.edu
,
e.bernidaki-aldous@parliament.gr
Member of Greek Parliament (MP Nation- Wide) (March 2004 to September 2007)
American College of Greece, Deree
- Professor of Classics (1992 to Present)
- Holder of the Endowed Chair of Modern Greek Studies Eleftherios Venizelos (January 2008 to Present)
On the suggestion of Prime Minister Kostas Karamanlis she was elected parliamentarian Nation-wide for the New Democracy Party in March, 2004 elections.
Committees in the Greek Parliament
Member of the Standing Committee on Cultural and Educational Affairs
Member of the Special Standing Committee on Equality and Human Rights
Chairman of the Special Standing Committee on Issues Concerning the Handicapped
Eleftheria Bernidaki-Aldous was professor of Classics at the American College of Greece, Deree, (1992- 2004) where she taught courses in classical literature and ancient history.
She has also taught at Creighton University in Omaha, Nebraska (1985-1992, full-time), at Oberlin College, Ohio (1983-1984, full-time) and at the Johns Hopkins University, Baltimore, Maryland (1978-1979).
She received her Ph.D. in Classics from the Johns Hopkins University in Baltimore Maryland and an M.A. in Classics from the same University.
She received an M.A. in European History from the University of Rochester in Rochester, N.Y. and a B.A. with "distinction" from the same university with a double major, in Classics and History. Before attending these Universities in the U.S., she graduated from Pierce High school and Lycium of the American College of Greece "with great honors".
She wrote her Ph.D. dissertation on Sophocles under William Arrowsmith and Georg Luck (listed among the best Ph.D. dissertations of the 20th century) from which resulted her book, Blindness in a Culture of Light: Especially the Case of "Oedipus at Colonus" of Sophocles. This book was published by Peter Lang (1990) and was "welcomed by all those who find in Greek drama the texts of our Western humanity" (Arrowsmith, W.). Her book continues to be reviewed favorably in published book reviews by scholars in Europe and in the U.S.
Professor Bernidaki-Aldous has authored articles on various topics of Greek literature and culture, has presented scholarly papers in professional conferences and has given invited lectures in many universities and organizations in the U.S. and in Greece.
Among her many honors and awards are:
Fellowships and scholarships from the Johns Hopkins University, from the University of Rochester, and from Pierce Highschool (including full tuition scholarships from all the above institutions, during the whole length of her studies).
A Charlotte W. Newcombe Dissertation Fellowship from the Woodrow Wilson Foundation.
A Fellowship from the Alexandros S. Onassis Institute for Scholarship and Research during the writing of her Ph.D. dissertation.
Award of the Academy of Athens, presented during the Panegyric Ceremony of December 30, 1997.
Bernidaki-Aldous was born and raised in Crete. She has been blind, as a result of an accident, since the age of three. She is married to Eugene Ralph Aldous and they have three children, Alexandros, Ariadne and Antonios.
She is active as a member of many professional Associations and Organizations. She has served on many committees in the colleges and universities where she worked. In addition, she has been of service to the community at large both in the U.S. and in Greece, by giving many presentations, workshops and lectures on topics dealing with the education and professional rehabilitation of the blind and with the promotion of the Greek culture and classical civilization.
Foreign Languages
English, Spanish, French, German.
Research Interest
Ancient Greek Language and Literature
Latin Language and Literature
Greek and Roman Civilization and History
Modern Greek Language and Literature
Detailed Curriculum Vitae